Little Bear & University Preschools
Reno-Sparks Preschool & Daycare

Toddler Program
Age 2
Consistent Learning Schedule
Early Social Skills
Self Help Skills
Foundational Literacy Development

Preschool Program
Age 3
Intro to Manuscript Alphabet
Math & Science
Dramatic Play
Social Skills

Kindergarten Readiness
Ages 4-5
Pre-K Learning Standards
Language Arts
Social Studies
Preschool Graduation
Welcome to Little Bear & University Preschool
Best Preschools in Reno and Sparks
We understand that selecting a preschool or daycare in Reno and Sparks, NV is a challenging decision as you consider the optimal environment for your child to develop. Although there are many benefits of attending preschool, you want to be sure that you choose the right preschool that will provide your child with high quality care and education. At Little Bear and University Preschools, we take care of your children like they are our own.
Our preschools offer the best of both worlds: small centers that are personal and "home-like," yet still provide a formal school setting. Little Bear has been operating as a preschool and daycare center in the Reno-Sparks area for over 20 years!
Schedule a tour or contact us to learn more about our Reno and Sparks daycare centers and top-notch preschool programs.
Fundamental Beliefs
Our early childhood educational programs offered at our Sparks and Reno preschools are designed to cultivate the overall growth and development of children through sound educational experiences. One of the benefits of attending our preschool is that your child will get the best of both worlds: work and play. Our fundamental belief that children learn best through meaningful play is reflected in our high quality child-centered program which supports, encourages, and inspires each child. Instilling a love for learning for a lifetime is at the heart of our Reno and Sparks preschool programs.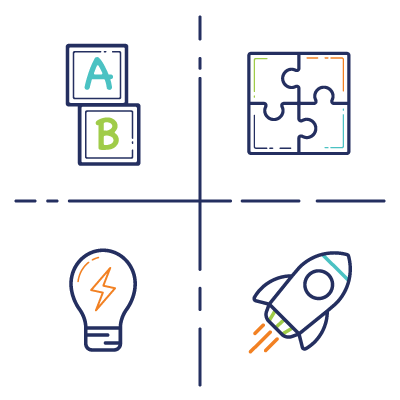 The Preschool & Daycare Team
Our staff of early childhood educators are passionate about teaching and helping young children grow. The team at our Reno and Sparks preschools and daycare centers work together to create a rich and exciting environment for children to be comfortable, trust, play, explore, and discover. By following the Early Learning Guidelines (ELG) outlined by the state of Nevada, our teachers are able to create fun and engaging activities that support early childhood development. Teachers plan activities that allow the children to think, participate, learn, and most importantly, to have fun.
Our teachers also understand that children learn and develop at their own pace and in their own way. This has helped them learn various teaching methods and practices that will most effectively help your child learn and grow. By implementing Nevada's pre-k standards into our programs, we're able to provide your child with the necessary skills and confidence that will help them reach new milestones throughout their life. These pre-k standards focus on creative arts, language and literacy, math, health and physical development, science, and finally social studies.
Parent Testimonials
"Children learn in their own way

Before placing my child at a preschool, I did plenty of research and found University Preschool to be the best fit for my son and family. I met with Ms. Connie and wanted to find out their method of teaching. Ms. Connie's background is very impressive. She ran a Montessori school in the Philippines; I'm very familiar with their philosophy as I went to one. Ms. Connie and her staff's approach to education are based on the child's own personality. The process helps children learn in their own way at their own pace which promotes the joy of learning. "

"Your child will be cared for

If you are looking for a preschool where your child will be cared for as well as have the chance to excel academically, this is the place for you!! We happened upon this place and from the moment we walked through the door we were made to feel as if we belonged there. My son was 3 when he started there and they were always very flexible with our schedule, letting us switch from full time to part time as needed. Now he is in kindergarten and intellectually he is so far above the other children in his class! He was reading before he left preschool. Ms. Connie and the other teachers there are truly amazing! Whenever I walked in the preschool there was learning going on and it was highly organized. We are so happy that our little boy was able to spend two wonderful years of his life here!!"

"This is the best preschool ever!

All 3 of my children went to Little Bear, now my youngest son is attending. They learn so much there, and the same teachers and director are still there since my oldest attended. My son can't wait to go every day, and that is the best for us. You can pay a much higher tuition, but you will not find a better place for your children. We love Little Bear."

"Me and my two children had an incredible

and truly memorable experience with Little Bear. Both my children attended kindergarten at Little Bear and were far more prepared than their fellow students for the first grade when the time had come. little bear was directly responsible for that. Both my children have graduated high school now and we still talk about their experiences at this preschool. The teachers were well qualified, attentive and the entire place was professionally structured. Without question Little Bear was an immensely positive experience for us all. I highly recommend, and have often over the years, that any parent looking for a safe, positive, memorable experience for their little ones, should definitely take them to Little Bear."